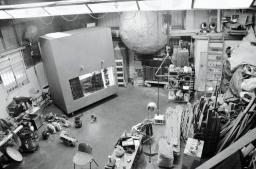 Studio Side View: Photography Print
The author:LI CHENG-LIANG
years:2017
size:50.5x76.5cm
$NT:4500 dollar
Introduction
Material: Digital Color Jet, Cold Laminating Film
Quantity: 50 Pieces
The origin of this print comes from Li Cheng-Liang's 2017 solo exhibition - The Wannian Station on the Road. After the exhibition, Li Cheng-Liang's current artworks are mostly device types, which are more difficult to collect. Before the exhibition, he visited the studio multiple times and decided to publish two versions─Studio Side View and Licence Art Gallery Exhibition Hall Side View, photographing limited prints to support the collection.
Besides from the limited photography prints, all published albums of The Wannian Station on the Road after the exhibition each contained a personally engraved No.1 Rock piece by Li Cheng-Liang.
This Studio Side View photograph is the predecessor of The Wannian Station.